The Australian head of global energy giant ExxonMobil is planning to enter into negotiations with prospective buyers and open a data room this year for the sale of its stake in the Bass Strait oil and gas operations jointly owned with BHP.
Nearly six months after the US oil major surprised the energy market by announcing it would seek to offload its stake in the 50-year-old Gippsland Basin Joint Venture including the Longford gas plant and platforms off Victoria's coastline, ExxonMobil Australia chairman Nathan Fay said the company anticipated the process would move "into gear" shortly.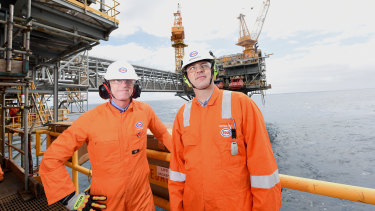 ExxonMobil's local chairman Nathan Fay (right) and the Australian Petroleum Production and Exploration Association's Andrew McConville on the Marlin platform in Bass Strait.Credit:Sharon Walker
"We communicated back in September that we were looking to start that process, but it's important to note that, much like in a lot of our business, time horizons are typically longer than people are used to dealing with," he said.
"As we move through the course of this year we will start really getting into gear with what people would view as a traditional sales process and entertaining commercial discussions."
In the meantime, Mr Fay said, ExxonMobil and BHP were forging ahead with multibillion-dollar investments in searching for potential new discoveries and were set to begin construction by mid-year on a project to tap one of the area's largest remaining undeveloped gas fields, known as West Barracouta.
"What's key to me is until you finally close a sale, we haven't got a sale, so we will continue to run this business with an ExxonMobil/Esso Australia flag on it, and that requires a significant amount of investment in the base business, continuing to work on attractive development projects to bring volumes into market … We aren't slowing down in terms of activity."
In December the joint venture gave the green light to the $550 million West Barracouta project, which, although it will not increase overall gas supply, is expected to help offset the decline in production from elsewhere. Operated in a joint venture with BHP, the offshore fields have traditionally supplied up to half of Australia's east-coast gas demand, but have recently been in rapid decline
Beyond West Barracouta, remaining gas reservoirs in the strait would be deeper, more difficult to produce and require more investment, compression and treatment, Mr Fay acknowledged. But he insisted there would be "plenty of development opportunity out there for whoever the operator of the business will be".
Private equity, ASX-listed Beach Energy and AGL Energy, Australia's biggest energy supplier, have been speculated as potentially interested purchasers of Exxon's stake in the joint venture.
BHP has confirmed it is weighing whether to sell out, as production from the Bass Strait continues to decline and the gradual global shift towards electric vehicles weighs on long-term petroleum demand. On a conference call last year, BHP's Geraldine Slattery said the miner was "considering all our options" in light of ExxonMobil's move.
The diminishing gas supply from offshore wells and the hunt for more reservoirs has become the subject of heightened attention as authorities warn of an impending supply shortage unless more is brought to market. The Morrison government has made increasing gas production a condition for states to receive energy funding deals, including pressuring Victoria to lift its onshore gas drilling ban to help offset the rapidly declining output from the Bass Strait offshore fields.
The Australian Petroleum Production and Exploration Association, representing the oil and gas industry, is urging state and federal governments to do more to encourage exploration in new gas fields and establish policy and regulatory certainty to drive investment.
"With uncertainty comes risk and with risk comes cost," chief executive Andrew McConville said.
Potential customers have been deterred from locking themselves into long-term gas contracts in part due to the federal government powers to restrict gas exports, which could lower prices.
Although it has not yet been triggered, the Australian Domestic Gas Security Mechanism, introduced by the Turnbull government in 2017, could force gas exporters to divert supplies to the domestic market if there was a shortage forecast for the following year.
The author's travel to the Bass Strait offshore platforms was paid for by the Australian Petroleum Production & Exploration Association.
Source:
Read Full Article